SEO, or Search Engine Optimization, is the practice of enhancing both the quality and quantity of website traffic from search engines. The primary goal of SEO is to target organic, unpaid traffic, as opposed to direct or paid traffic sources. Organic traffic can originate from various types of searches, including image, video, academic, news, and industry-specific searches. For beginners, a solid understanding of SEO is crucial, and this Beginners Guide to SEO will help you navigate the fundamentals
As experts in the field, we understand the critical importance of achieving high rankings on search engines like Google and Bing.
Why is it so vital for your website to rank well on search engines? What exactly is SEO, and how does it work? These fundamental questions will be answered in this comprehensive guide.
Defining Search Engine Optimization – SEO
SEO stands for Search Engine Optimization, which refers to the techniques and strategies used to improve a website's ranking and visibility in relevant organic search results. The three key aspects that SEO addresses are:
1. Quality of Traffic:
This involves ensuring that the individuals visiting your website are genuinely interested in the products or services you offer. For instance, if someone is looking for video games and lands on your site that sells video creation tools, the chances of converting that visitor into a sale are minimal.
2. Quantity of Traffic:
Once you have attracted the right audience through the Search Engine Page Results (SERPs), you can focus on increasing your website's overall traffic.
3. Organic Search Results:
These are the traffic you receive from SERPs without directly paying for advertising space.
In essence, SEO is about anticipating your customers' needs, understanding the terms they search for, and tailoring your quality content to connect with potential customers who are seeking solutions.
How SEO Works
Modern search engines use a process called crawling to retrieve and index webpages. After indexing, algorithms are employed to match the page's content with user search queries. Various ranking factors, such as off-page, on-page, and technical elements, determine a page's ranking on search engines.
Off-Page:
These metrics involve factors like backlinks, which are essential for SEO (covered in detail in interlinked of this article).
On-Page:
On-page ranking focuses on the presence of keywords and informational content on webpages.
Technical:
This measurement assesses the overall performance of the entire website rather than individual pages.
Beyond the "search engine" aspect, the "optimization" in SEO mainly revolves around content. High-quality content on your website enhances your chances of ranking well in search engine results. This content should effectively convey your business's identity to potential customers while providing search engines with the necessary information, including keywords, title tags, meta descriptions, and internal links.
While these are the primary facets of SEO, other factors play a role in achieving success in SEO, such as strategies, link building, keyword research, web design, social network integration, and feedback processing.
Further Reading:
What Is Technical SEO: Basics And Best Practices
Why SEO Matters
SEO is how search engines like Google determine which websites deserve higher rankings for specific search terms or queries. Modern SEO techniques ensure a fairer playing field, preventing manipulation by automated bots or large companies with substantial budgets. SEO encourages websites to provide valuable content and engage with their visitors, leading to higher search engine rankings. Users often perceive websites at the top of search results as more credible, making SEO crucial for attracting visitors to your website.
SEO allows you to increase your website's traffic cost-effectively, reducing the need for expensive advertising space. In the upcoming article, we will explore SEO writing and how to optimize your website for SEO.
What Is SEO Writing
SEO writing involves optimizing blog posts or web content with relevant keywords and phrases to improve a website's organic search results and SERP rankings. The content written by SEO writers should align with the products or services you offer. For example, if your website sells gardening supplies, articles on topics like 'How to Grow a Particular Plant' or 'Top 5 Gardening Products' can be beneficial.
However, successful SEO writing goes beyond keyword stuffing. The quality and usefulness of your content are crucial. SEO writers analyze keywords and deduce the phrases and questions potential customers may have. There are three main types of searches: navigational (finding a specific website), informational (seeking information on a topic), and transactional (looking to purchase a product or service).
Further Reading:
7 Tips For Content Optimization That Helps Your Brand SEO
Understanding Keywords
Keywords play a pivotal role in search engine rankings. Strong SEO, high domain authority, and a healthy backlink profile lead to higher Google rankings. Ranking higher ensures you capture a larger share of the market, as the majority of users click on results from the first page of Google. Weak SEO leads to lower rankings, reduced visibility, and the risk of being overlooked.
Further Reading:
How To Do Keyword Research For SEO
What is Local SEO
Local SEO involves enhancing your online presence within your local area to attract more business from relevant local searches. When you conduct a Google search, such as 'computer shops,' the initial results presented are referred to as 'Snack Pack Results.'
The 'snack pack' is a boxed section situated at the top of Google's first page of search results. It typically showcases the top three businesses, but this list can be expanded to include more.
Approximately 33% of clicks on Google are directed towards the local 'snack pack' results, while 40% of traffic stems from organic search results. It's advantageous to be featured in both of these segments as they cater to different user search habits.
If your business operates in an area with limited search activity, it's advisable to expand your location modifier to include a larger nearby city. This adjustment can increase your website's traffic.
In summary, if your business primarily serves the local community, optimizing your content for local SEO can significantly enhance your website's traffic.
In the final part of this series we're going to take a look at some helpful SEO Tools and how to enhance SEO.
What Are SEO Tools
SEO tools serve as aids for website owners looking to enhance their search engine rankings. These tools analyze online content to identify keywords, backlinks, and other quantifiable data. Now, let's delve into the common tasks where SEO experts put these tools to use:
1. Keywords – Delving deeper into keyword research is a primary benefit of employing SEO tools to augment your website's traffic. These tools unveil relevant search terms and inquiries related to your topic, revealing the most-searched-for terms. This valuable insight empowers you to optimize your website and content.
2. Content – While SEO tools won't write articles for you (at least not yet), they provide valuable guidance and structure for your content creation, such as optimizing meta description, meta title and etc.
3. Backlinks – As previously mentioned, backlinks are a crucial facet of the behind-the-scenes work in SEO. Certain SEO tools enable you to monitor and modify existing backlinks and even create new ones.
4. Ranking – Many SEO tools are designed to track your website's ranking and allow you to examine your competitors' strategies and successful content types.
5. Traffic – Monitoring your website's traffic is an obvious but essential SEO task.
6. Social Media – Some SEO tools also offer the capability to monitor and analyze data originating from social media platforms. They can inform you about which blog posts have been shared on social media and help identify trending keywords.
Also read: Link Building Content: How To Build Links In 2024
What Are The Top SEO Tools
Now that you have a basic understanding of the purpose of SEO tools, we'd like to share four of our favorite FREE SEO tools. However, before we dive into these, we should emphasize the importance of Google Analytics and Google Console.
Google is unavoidable in the digital realm, and they offer alternatives for nearly every item on our list.
1. Uber Suggest – Uber Suggest is a remarkable tool for tracking and building keyword lists. It allows you to search by country and provides valuable data on a keyword's volume, cost per click, and competition in both paid and organic traffic.
2. MozBar – A substantial part of SEO research involves monitoring your competition to identify market gaps and areas where you can excel. MozBar, a browser extension, offers a snapshot of a website's data, revealing tags, titles, link data, and optimization features.
3. WooRank Website Reviews – Despite its whimsical name, WooRank offers valuable insights. This website analyzer includes new mobile integration features and a feature to track social media sharing.
4. AHREFS – Ahrefs.com is a renowned toolset for backlinks and SEO analysis. What sets them apart is their extensive database of live links, surpassing similar services in the market.
How to Enhance SEO
In our previous article, we've highlighted numerous strategies for improving and crafting search engine-optimized content for your website. These strategies include incorporating keyword-rich informative blog posts and ensuring swift loading and mobile compatibility of your site. Now, let's delve deeper into additional methods to boost your SEO.
Header Tags – In addition to incorporating images into your blog posts to maintain reader engagement, breaking down the text is an effective way to maintain the flow of the article. This not only benefits the reader but also guides the writer through the article-writing process.
Outbound Links – Creating links to external websites can significantly enhance your website's traffic. However, it's crucial to link to reputable sources, particularly when referencing data-related topics.
Explainer Video – Featuring a video on your page that elucidates your business or product is a valuable strategy. By uploading the video to YouTube and embedding it on your website, you not only gain views from the video but also enjoy the advantages of having your business indexed on YouTube's search engines.
A Professional Website – While implementing header tags, generating regular content, and similar practices can attract some traffic to your website, the ultimate goal is to have a professional website with an intuitive interface that captivates and retains users.
Best Software Apps for SEO Keyword Research
If you're new to SEO and need assistance with keyword generation, there are applications that can help make your content more visible to your target audience. Here are the top three applications for keyword research:
1. Google Keyword Planner: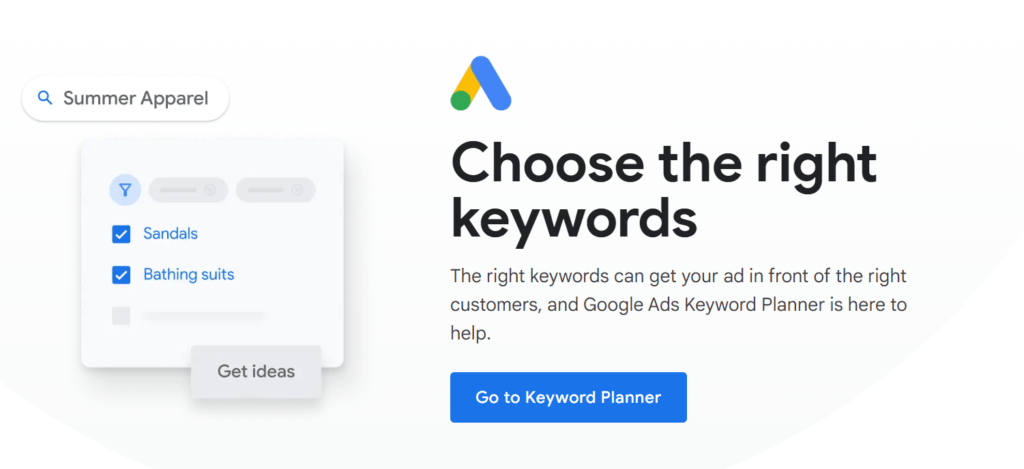 Google offers this tool, which suggests keyword combinations and related phrases based on previous searches. It's user-friendly and effective.
2. Semrush: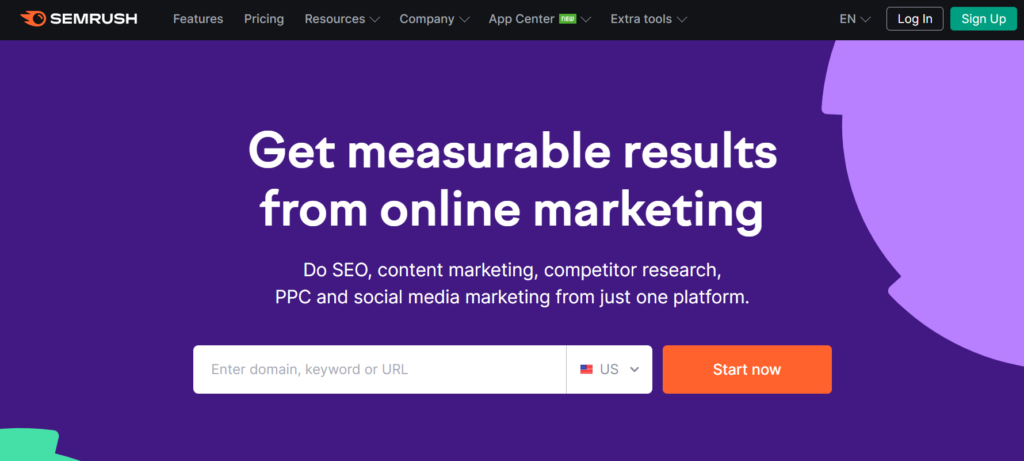 You can use Semrush, a suite of SEO tools, to conduct keyword research and enhance your SEO rankings. By utilizing the Keyword Overview feature, you can input a keyword and obtain a comprehensive understanding of everything you need to be aware of, such as the monthly search volume (number of people searching for the keyword), the trend (whether it's becoming more or less popular), and other essential information.
3. Answer The Public: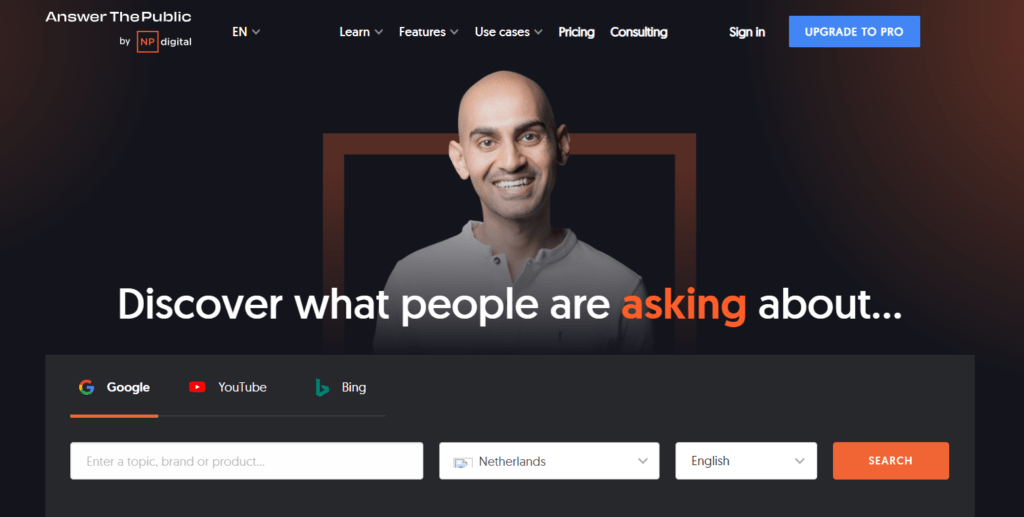 Answer The Public functions uniquely compared to other keyword research tools as it displays keywords in an appealing visual format. However, it also allows you to view them in a list or download a .csv file of the results. This tool is ideal for those starting SEO and keyword research, as you don't need to create an account to use it. Input your keyword and peruse the results.
Further Reading:
10 Best WordPress SEO Plugins And Tools That You Should Use
Conclusion
In this Beginners Guide SEO, we've covered the basics of SEO and how to maximize your website's traffic. We've explained the significance of SEO and how it contributes to your website's success. Additionally, we've delved into the world of SEO content writing, SEO tools, and their role in optimizing your website.
SEO companies play a crucial role in enhancing your website's traffic by creating content, improving navigation, and ensuring your site is easily discoverable and searchable online. We hope the information presented in these articles will guide you on your path to becoming an SEO expert.