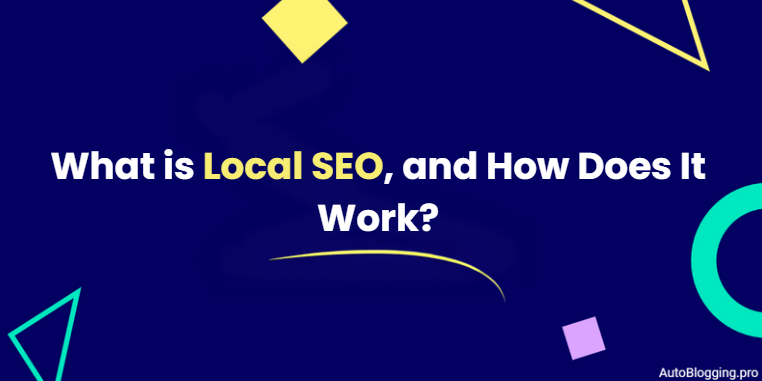 If you own a local business, you know how important it is to attract customers who are searching for your products or services online. But how can you make sure that your website shows up when people search for things like "pizza near me" or "dentist in my area"? That's where local SEO comes in.
Local SEO is the practice of optimizing your online presence for increased visibility in local and localized organic search results. It helps you reach potential customers who are looking for businesses like yours in their geographic area. In this blog post, we will explain what local SEO is, how it works, and why it matters for your business.
We will also share some tips and best practices on how to improve your local SEO strategy and rank higher on Google.
What is Local SEO And How Does It Work
Local SEO is a subset of SEO that focuses on ranking your website for keywords that have a local intent. For example, if someone searches for "plumber in Chicago", they are looking for a plumber who serves the Chicago area, not a plumber who is located in Chicago but serves customers in other cities or states.
Local SEO works by sending signals to search engines that your business is relevant, prominent, and trustworthy for local queries. Some of these signals include:
Your Google My Business profile, which is a free listing that displays your business name, address, phone number, website, hours, reviews, and other information on Google Search and Maps.
Your online directories and citations, which are mentions of your business name, address, and phone number on other websites, such as Yelp, Yellow Pages, or TripAdvisor.
Your online reviews and ratings, which are feedback from your customers on various platforms, such as Google, Facebook, or Yelp.
Your website content and structure, which are the words, images, and links on your website that describe your products, services, and location.
Your backlinks, which are links from other websites that point to your website, indicating that your website is authoritative and trustworthy.
By optimizing these signals, you can increase your chances of ranking higher on Google for local searches and attracting more qualified leads to your business.
Why is Local SEO Important For Your Business
Local SEO is important for your business because more and more people are using search engines to find local businesses. According to Google:
30% of all mobile searches are related to location.
78% of people who search for something nearby on their phones visit the business within a day.
28% of searches for something nearby result in a purchase.
These statistics show that local searches have a high conversion rate and a strong purchase intent. If you can rank well for local searches, you can capture these customers who are ready to buy from you.
Local SEO is also important because it helps you stand out from your competitors. With local SEO, you can showcase your unique selling proposition, your customer reviews, your special offers, and your location on Google. This can help you build trust and credibility with your target audience and persuade them to choose you over your competitors.
How To Improve Your Local SEO Strategy
If you want to improve your local SEO strategy, here are some tips and best practices to follow:
Optimize your Google My Business profile: Make sure that your profile is complete, accurate, and up-to-date. Add relevant categories, keywords, photos, and posts to your profile. Encourage your customers to leave reviews and respond to them promptly. Verify your profile and use the Google My Business app to manage it on the go.
Optimize your online directories and citations: Claim and update your listings on other online directories and citation sources, such as Yelp, Yellow Pages, or TripAdvisor. Ensure that your name, address, and phone number are consistent across all platforms. Remove any duplicate or inaccurate listings that may confuse search engines and customers.
Optimize your website content and structure: Create high-quality and relevant content for your website that answers the questions and needs of your local customers. Use local keywords and phrases in your title tags, meta descriptions, headings, and body text.
How Have Search Engines Evolved Over Time
In the early stages of the internet, with only a limited number of websites, navigating online content was relatively straightforward. However, as the internet expanded, the need for efficient web exploration led to the development of search engines.
Initially, when users entered a search phrase, the engine would match it with websites containing the relevant keywords. Google initially employed a similar method, but it revolutionized the search engine landscape by being the first to consider links between sites as indicators of trustworthiness and authority, surpassing other search engines.
Presently, Google assesses numerous on and off-site factors to determine a website's relevance for search results. These factors collectively form a "digital footprint," with each element carrying a distinct weight or value. Google combines these factors to generate search results, and your digital footprint ultimately influences whether your website appears as a top result in response to a user's Google inquiry.
Further Reading:
What Are Search Engines And How Do They Work?
How Does Google Operate
When you input a search query, Google examines various website signals, known as ranking factors, to assess the relevance of your site and generate a list of matching results.
Contrary to common belief, Google doesn't conduct a real-time search of the entire internet whenever someone enters a query. Instead, it searches through a pre-existing copy of all the sites it has identified, referred to as the Google Index.
To create this index, Google utilizes small programs called "spiders" that systematically crawl the web. These spiders initiate the process on a single page, follow links to subsequent pages, analyze their content, and repeat the process. The crawled web content is then stored in Google's servers, forming the basis of the index. The spiders operate on an astonishing scale, continuously crawling trillions of pages at an exceptionally rapid pace, ensuring the index remains as up-to-date as possible by swiftly discovering new sites and connections.
How to Implement Local SEO Successfully
Now is the opportune moment to devise a strategy aimed at elevating your local rankings and increasing traffic. The subsequent steps provide a comprehensive guide to kick-start your efforts:
1. Conduct Local Keyword Research:
Engage in local keyword research to identify the terms people commonly use when seeking local products and services. Achieving high rankings for these keywords directs targeted local traffic to your website, attracting potential customers.
2. Optimize Your Google Business Profile:
Enhance your Google Business Profile, a complimentary business listing containing essential details about your enterprise, such as location, services, products, and images. This optimization ensures your business is prominently featured in local search results.
3. Obtain Local (NAP) Citations:
Secure NAP citations from online sources that mention your business's name, address, and phone number. Typically found on business directories and social media profiles, NAP citations play a crucial role in verifying the accuracy of your business information for Google.
4. Encourage Online Reviews:
Foster online reviews and testimonials to establish customer trust. These reviews provide social proof, validate your expertise, and instil confidence in potential buyers. Responding to reviews is recommended to showcase your commitment to customer satisfaction.
5. Refine Your On-Page SEO:
Implement on-page SEO practices to optimize your website pages, enhancing their chances of ranking higher in organic search results. Robust on-page SEO is essential for effective local search engine marketing, potentially leading to inclusion in the local pack.
6. Build Backlinks:
Acquire backlinks, which are links from other websites directing traffic to yours. Backlinks are influential ranking signals in Google's search algorithm. Research indicates a positive correlation between the number of relevant referring domains and higher rankings for relevant keywords.
By following these steps, you can strategically position your local business to thrive in the competitive landscape of local SEO.
Local SEO Statistics
Conclusion
Local SEO is a powerful way to boost your business in 2022. It can help you increase your online visibility, attract more qualified leads, and stand out from your competitors. By following the tips and best practices we shared in this blog post, you can improve your local SEO strategy and rank higher on Google for local searches.
If you need help with your local SEO, you can contact us at [Local SEO Experts]. We are a team of experienced and professional local SEO specialists who can help you grow your business online. We offer customized and affordable local SEO services that suit your needs and budget. Contact us today for a free consultation and quote.